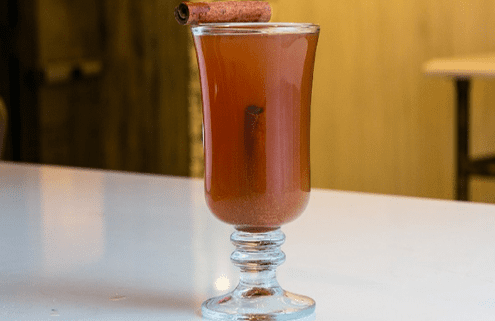 Tracy Kaler's New York Life Features Trademark in Warm Up with Winter Cocktails
Warm Up with Winter Cocktails from NYC Drink King Will Benedetto
WINTER COCKTAIL RECIPES FROM WILL BENEDETTO
Baby it's cold outside isn't merely a saying on a day like today. It's for real. Fall is far behind us (did we even have a fall?) and it seems winter in New York is here to stay for a while. That means finding ways to keep warm is high on my list – and yours? Maybe you're in the mood to snuggle under a chunky blanket, binge watch the latest on Netflix, or even try your hand at some new winter cocktail recipes. Okay then, for the cocktails, I have you covered.
Will Benedetto, the Bar Manager and Cocktail Curator from In Good Company Hospitality (the brains behind some of the city's best spots for food and drink, such as Refinery Rooftop, Parker & Quinn, and Trademark Taste + Grind), created these wintry libations that can easily be mixed at home. Talk about perfect timing with the holidays here!
And don't worry, if you're not that adventurous in the kitchen (or behind the bar), venture to Trademark Taste + Grind and quaff one there. Now, let's move on to those winter cocktail recipes.
THE BABY IT'S COLD OUT CIDER
This drink will keep you and your guests toasty for hours on end. Warm a large pot to sip all night long.
Ingredients:
Brugal Rum (add as much or as little as you like)
House Cider (purchase apple cider or make your own)
Fall Spices (like cinnamon, nutmeg, cloves)
Combine and warm all ingredients, stir, garnish with a cinnamon stick.
CEREAL MILK MOONSHINE WHITE RUSSIAN
Throw back to your childhood with a cereal and milk cocktail! (Talk about comforting.) Your guests will surely feel nostalgic as they imbibe on this creative concoction.
Ingredients:
1.5 oz of Coco Puff-infused Almond Milk
1 oz of Manhattan Moonshine
1 oz of Mr.Black coffee liquer
Coco Puff-infused almond milk recipe
From the team at Trademark Taste+ Grind: "This can be achieved a number of ways. The only thing you need to be mindful of is Coco Puffs can absorb a truly remarkable amount of liquid. During our first attempts at making cereal milk at scale we let a cup of Coco Puffs sit in a quart of almond milk over night only to find golf ball sized Coco Puffs the next day. Now we use a tablespoon of ground Coco Puffs per quart of almond milk and just give it a good shake to infuse it."
Combine ingredients, shake hard to give a frothy milkshake texture, and then top it off with Coco Puffs.
Will Benedetto photo via Trademark Taste + Grind Facebook page. Drink photos by In Good Company Hospitality.
View full article Here.
https://www.ingoodcompany.com/wp-content/uploads/Screen-Shot-2018-11-21-at-3.51.46-PM-copy.png
400
495
Sarah Curley
https://www.ingoodcompany.com/wp-content/uploads/IGC-Hospitality-Logo-2023.png
Sarah Curley
2018-12-17 16:08:07
2019-01-07 16:43:55
Tracy Kaler's New York Life Features Trademark in Warm Up with Winter Cocktails